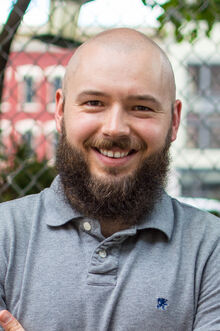 Astronaut Jake is a commercial segment in It's All Been Done Radio Hour. Jake claims to be a 'real-live' astronaut. Premiering in 2018, he is the third in a series of such characters, the first being Cowboy Joe. Jake 'sells' IABD-brand products that relate to his space theme. Each episode title is the product he is selling. He is often annoyed by children who question his words.
Characters
Astronaut Jake is played by Ryan Yohe.
Other Characters
Anne played by Kristin Green (episode #1). Anne is a young girl who doesn't know what show polish is.
Jerry played Joe Morales (episode #2). Jerry is a young boy who points out Jake is using a slogan copy-written by another company.
Episodes
| # | Title | Writer | Director | Live Show | Podcast |
| --- | --- | --- | --- | --- | --- |
| 1 | "Telescope" | Jerome Wetzel | Dallas Ray | Show XXXV | |
| 2 | "Ice-cream" | Jerome Wetzel | Jerome Wetzel | Comfest 2018 | |